【COT x ageHa Sacred Technology 1st Tour】開催延期のお知らせ
2023.11.03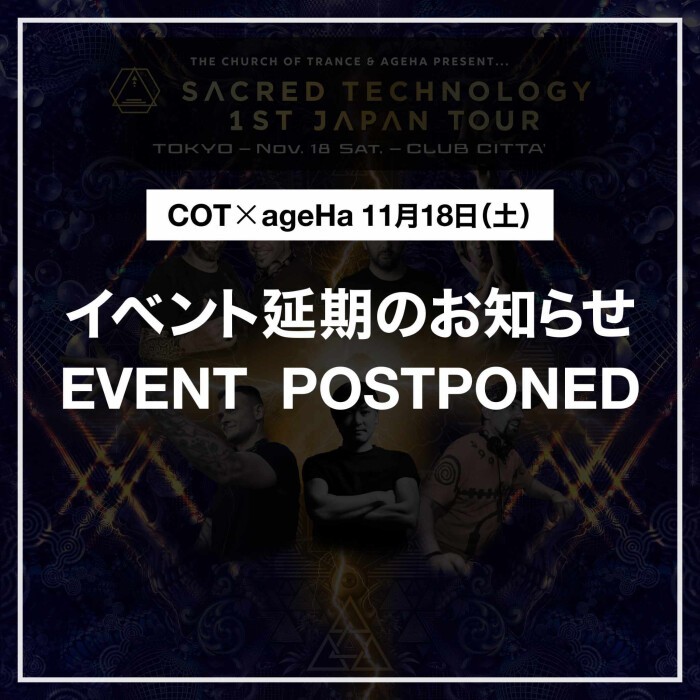 11月18日(土)に川崎・クラブチッタで予定しておりました COT & ageHa present "Sacred Technology 1st Japan Tour"につきまして、戦争の影響により出演アーティストの来日が困難となったため、誠に不本意ではありますがイベントの開催を延期致します。

前売りチケットをご購入された方には返金の対応をさせていただきますので、ご登録のメールアドレス宛に順次ご連絡致します。

イベントを楽しみにされていた皆さま、誠に申し訳ありません。

最高のフロアでの再会になるよう準備を進めてまいりますので、変更後の日程発表まで、今しばらくお待ちください。


Unfortunately due to the ongoing conflict, our international guest artists will not be able to make the trip from Israel to Japan. As such, we have, regrettably, come to the decision to postpone the event.

If you have purchased a pre-sale ticket, we will be in touch with you via the e-mail address you submitted.

From the bottom of our hearts, we are truly sorry things had to come to this, but rest assured we are taking steps to make our reunion on the dance floor one to remember for all time.

Stay tuned for the new date announcement!