【Sorry! We're on WINTER BREAK!! -冬季休業のお知らせ】
2019.01.18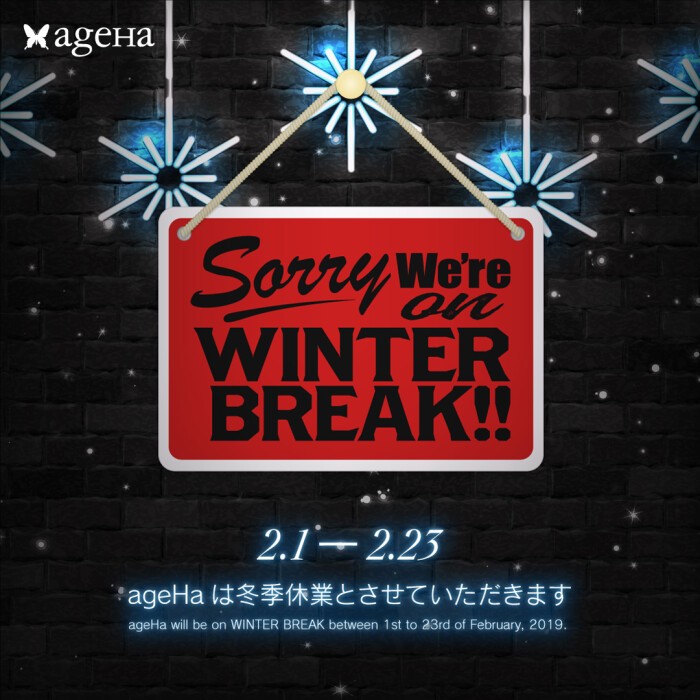 【Sorry! We're on WINTER BREAK!! -冬季休業のお知らせ】
いつもageHaにご来場いただきありがとうございます。
2/1 - 2/23まで、ageHa営業は冬季休業とさせていただきます。
ご迷惑をおかけいたしますがご理解をお願い致します。
3月よりリスタートいたしますのでご期待いただければと思います。
詳しい情報はホームページまたはSNSにて随時公開いたします。
Thank you very much for your corporation.
ageHa will be on WINTER BREAK between 1st to 23rd of February, 2019.
Thank you for understanding and we are all looking forward to seeing you all after our WINTER BREAK.
ageHa will re-open after our WINTER BREAK in March.
We will be back as new refreshed ageHa! We will announce upcoming event information on our official SNS and website. Please keep an eye out for our renewed activities.
Thank you for your cooperation!
______

一緒にパーティーを作るオーガナイザーさんを大募集中!!
ageHaでオールナイトイベント開催希望の方、ホールレンタル希望の方、こちらからお気軽にお問い合わせください。
We are seeking event organizers who are willing to work with us at ageHa.
Also if you are interested in renting ageHa for an all-night event, please contact:
plan@ageha.com
​ http://www.ageha.com/equipment/rental/