【ageHa SPRING CAMPAIGN】
2017.03.29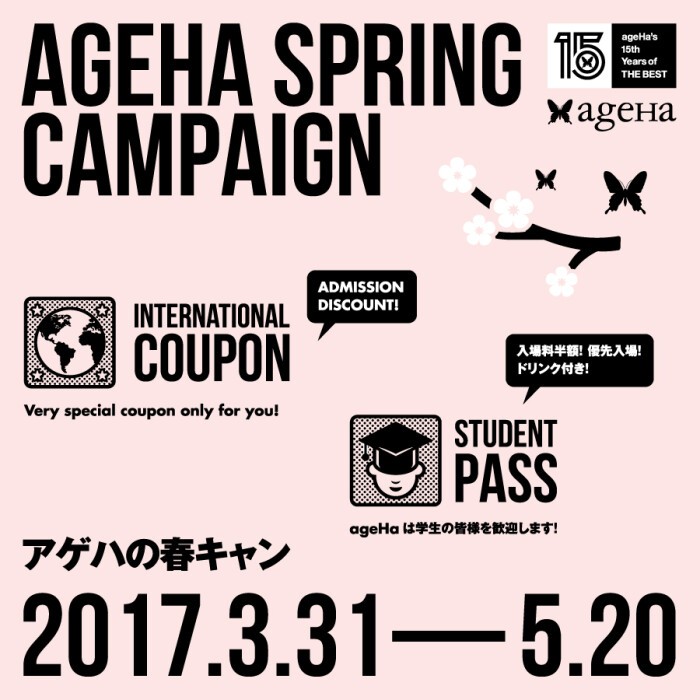 ageHa Spring Campaing !! フレッシュな皆さんを応援する"アゲハの #春キャン 実施

春のageHaは学生のみなさんを歓迎します!
いつも遊びに来る人も、初めて遊びに来る人も学生なら全!員!半額!!
さらにドリンクも付いて優先入場専用レーンで並ぶ必要もナシ!
今年も外国人の方は特別料金でお待ちしております!
We are preparing special price again this year and are waiting !!
みんなでageHaの春を遊びつくそう!!


キャンペーン①: STUDENT PASS
ageHaは学生の皆様を歓迎します!
24:30までの入場で当日料金が半額に!!さらに1ドリンク付きで超お得!さらに優先入場専用レーン利用で並ぶ心配もナシ!

・入場の際必ず学生証をお持ちください。それ以外の身分証明証では適用外となります。
・大学だけではなく専門、短大等も対象(有効期限切れは対象外)
・料金の端数はカットさせていただきます。例:1750円→1800円
・交換可能のドリンクには制限がございます。
・ご利用になれないイベントがありますのでホームページにてご確認ください。



キャンペーン②: INTERNATIONAL COUPON
Thank you for visiting the biggest club in Japan, ageHa! Very special coupon only for you, called "INTERNATIONAL COUPON".
Please bring your international ID which shows you are not Japanese, you get'll get good deal.


We offer a special discount service to the guest from overseas who are having a hard time to purchase our advance tickets. In order to receive this discount, please bring one of the following I.D.
※Passport / Driver's license / Resident Card except for Japanese
※Copies/Smart Phone Photos are not acceptable.
※You must be 20 years or older to enter and a valid photo ID containing your birthdate is required at the door.